General
Is it legal? Do I need a background check?
Flamethrower ownership is generally legal in the United States without requiring any sort of background check. This is America, and freedom is something we stand for.
As the product name states, it is simply a long range torch. However, Maryland and California do have restrictions regarding such devices. The city of Warren, Michigan also prohibits possession via local ordinance.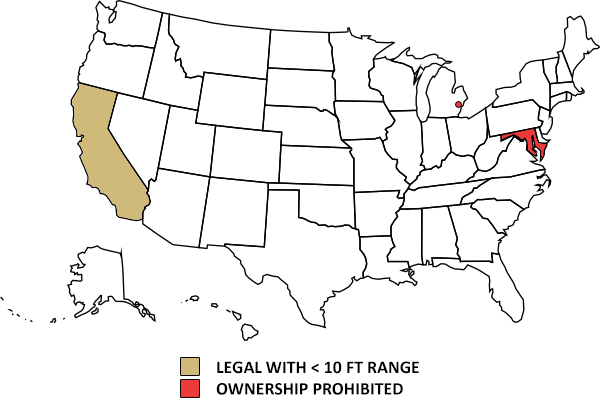 In Maryland, flamethrowers are outright prohibited to possess due to falling under the state's definition of a destructive device (not the federal definition).
In California, non-stationary devices that are designed/intended to emit a burning stream at least 10 feet are prohibited without a license issued by the State Fire Marshal. We are working on a nozzle that reduces the output distance to less than 10 feet for a compliant version. Nozzles are replaceable and available in our store for those out-of-state trips or transfer to a new owner.
Check with your local laws. It is your responsibility to understand and adhere to all relevant regulations.
Is there a warranty?
Absolutely. We provide a limited lifetime warranty on all of our products. See the full warranty text here.
How do I install the Backpack Kit reservoir?
Simply remove the screws holding the original tank to the body, disconnect the hose from the fuel pump, replace the hose barb with the included adapter and connect the braided hose between the adapter and backpack reservoir. The included instruction manual and a video walkthrough are available on the Instructions & Manuals page.
Safety
Is it safe to use?
It's the safest a flamethrower can be. Our team designed every aspect of the unit with user safety at the forefront. For example:
The nozzle design helps keep fuel and flames at the nozzle instead of dripping back toward the user.
The ignition system is on-demand; no need for an open flame pilot torch or pressurized butane.
A high precision check valve helps prevent any unintentional drips during use or storage.
A low voltage cutoff circuit prevents over-discharging the battery.
Of course, flamethrowers and flames are inherently hazardous. Good judgment is key to personal safety. When the battery is connected and the power switch is on, pressing the trigger will generate fuel and flames if there is any fuel in the reservoir. Always transport the device with the battery disconnected to prevent accidental activation.
Can the flames "blow-back" internally?
No. There is not enough air inside the plumbing to facilitate a flame front that is in any way harmful. The convoluted and tight-tolerance geometry inside the fuel pump combined with an ultrafine metal screen mesh provide built-in flame arresting properties. The tiny nozzle orifice and all-metal check valve also contribute to this resistance. There will always be some level of liquid fuel trapped inside the plumbing even when apparently "running on fumes" due to the components and paths involved.
Electronics
Fuel
What fuel should I use?
Gasoline (unleaded, any octane) will produce a bright hot flashy flame and produces the most reliable and brilliant results.
A gasoline-diesel mixture (up to 50% diesel) is what you want to use for burning foliage. Gasoline will keep the mixture above its flash point, and the oily diesel fuel will keep the fire going until whatever you're burning is well-done.
Do not use any other fuels unless they are approved for use by Exothermic Technologies.
How is it refilled?
Turn off the power, blow out any remaining flames at the nozzle, and unscrew the fuel cap. Pour in gasoline or a gas-diesel mixture and re-tighten the cap. It's that simple.

Orders
Shipping
Do you ship to addresses outside the USA?
Unfortunately, no. This may change in the future. We know there are many who have a need and want for our products across the world, and we will see what we can do to make that happen as time goes on and exporting becomes more feasible.
How fast is shipping?
All orders ship by the next business day via UPS Ground.
If you require faster shipping, select 3 Day Select, 2nd Day Air or Next Day Air during checkout and we'll ship using that method. Live rates are calculated automatically, and estimated delivery dates are provided.
Specific delivery dates cannot be 100% guaranteed, although nearly every package we've shipped has arrived by the date expected. We are at the mercy of UPS's Service Guarantee (which is suspended, currently).