LIMITED STOCK AVAILABLE THIS WEEK
That's right. The first batch of Pulsefires are in the final stages of assembly. We'll be adding stock to the website soon. The vast majority of our initial build is heading through distribution channels and showing up at your local dealer, but a few can be snagged directly through us! We're working on our next build schedule and hope to have more available soon!
For any out of stock or coming soon product, you can be notified when it's back in stock. Just hit the big blue "NOTIFY ME" button, type in your e-mail address, and the system will send you a quick note the moment it becomes available to order.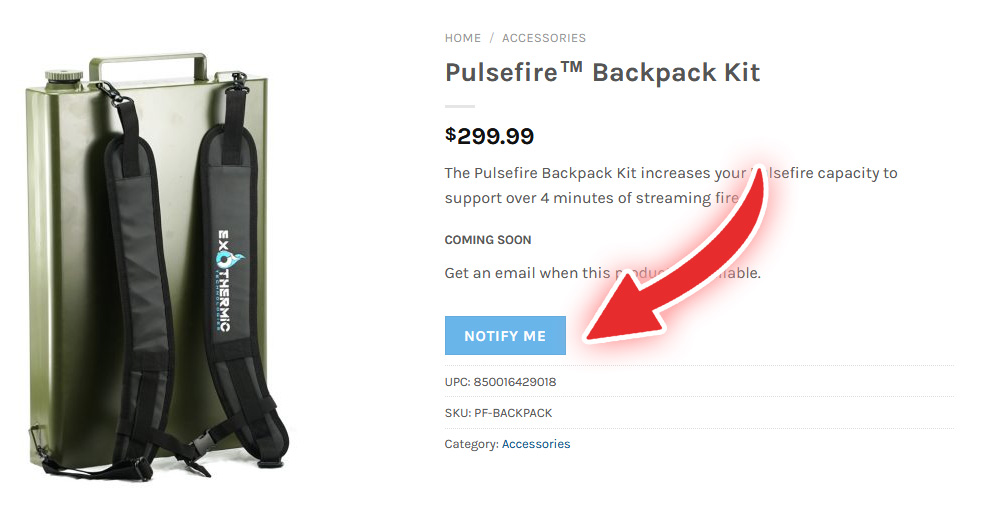 If an item becomes in stock, but sells out before you get a chance to order it, you'll have to hit that NOTIFY ME button and enter your e-mail again. Your e-mail is only used for one notification.
A look behind the scenes…
The shop is full of firefighters building flamethrowers this week. Not only is Exothermic Technologies owned by a 30+ year veteran fire chief, but it's supported by the local crew.